2017 Winners
Click here to return to the list of 2017 winners
Molson Canadian
"Rooftop Rink"
(Rethink)
Since Molson Canadian regained the NHL beer sponsorship in 2011, the brand has sharpened its association with hockey. Its ties to the sport are deep, but there was an opportunity for Canada's beer and Canada's game to come even closer together. In 2015 this resulted in Hockey Heaven, a spectacular rink in the Rockies that captivated fans.
The 2016 goal was to further elevate Molson Canadian's connection to the game and the fans who live and breathe it using social media as the ideal way to connect with the very tightly defined target. The brand prioritizes the most intense fans of the game – the Irrationally Hockey Obsessed - as its core audience. The potential to captivate and activate their fervour in the social media world is immense.
The brand's 2016 strategy was to captivate the audience with a tantalizing promise of another awe-inspiring rink. The intense anticipation fans feel is better fuelled through social media than traditional media, so the Rethink phased the campaign to strategically unleash the response of obsessed fans, structuring it to align with social media's ability to create a groundswell of interest among an engaged group and spread it to an even larger audience.
The plan was engineered to create intense, contagious speculation in the early stages and amplify impact as it rolled out. In October, the brand and Rethink announced another rink would be built, but kept its location secret. A digital trailer drove awareness, and was pushed natively across social/digital channels. A Facebook contest launched to select fans to play on the ice. In January, construction began. Logos were deliberately absent. Office workers in nearby towers took to Instagram, Twitter and Reddit, speculating who was behind it.
The logo appeared on the ice and the brand announced the hockey world's worst kept secret on Facebook and Instagram. Social media exploded. Contest winners hit the ice, and Molson then shared that content socially and in a subsequent TV spot. Interest was so intense that the team made the rink available to fans for a month. It was booked around the clock.
The socially-led campaign fuelled instant, insatiable speculation. The campaign succeeded by leveraging the physical asset of the rink to create highly sharable content across social and digital channels. Molson tapped into the nature of real-time/news-driven social and digital channels to create a groundswell of interest in the rink. It used social live streaming to help launch the rink. The nimbleness of social let it optimize execution and respond to lively public reaction.
The "Rooftop Rink" garnered 52 million earned media impressions in one day, and currently is at 169 million impressions (and counting). Over 75 media outlets from general lifestyle, to sports, to engineering and architecture featured it. With over 30,000 inquiries on rink access, Molson Canadian extended the contest to fans, the business community, charitable organizations and even the Toronto Maple Leafs and NHL alumni – 2,200 additional hockey fans played on the rooftop rink. Brand attribute ratings of Molson Canadian grew 3% in a Nielsen Brand Lift Study for those exposed to the campaign. Molson Canadian recently ranked the #1 brand consumers prefer while watching hockey.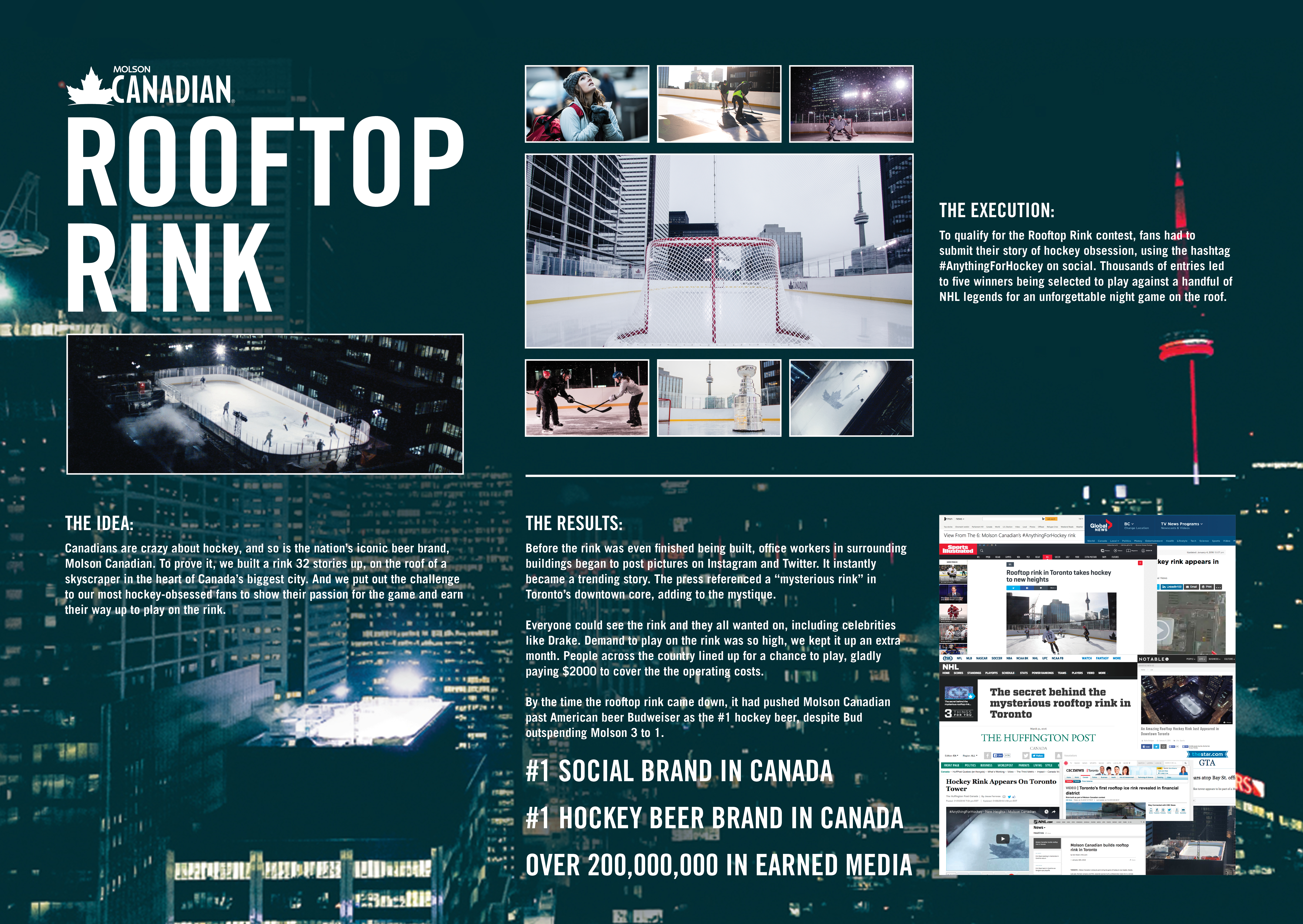 Credits
Advertiser: Molson Canadian
Agency: Rethink
CDs: Mike Dubrick, Joel Holtby, Aaron Starkman, Chris Staples, Dre Labre, Ian Grais
ADs: Vic Bath, Joel Holtby, Nicolas Quintal, Leia Rogers
Writers: Bob Simpson, Mike, Dubrick, Aaron Starkman, Xavier Blais, Morgan Tierney, Karine Doucet
Digital Designer: Alex Fleming
Studio Artist: Michelle Kennedy
National Director of Strategy: Maxine Thomas
Director of Digital Strategy: Darren Yada
Director of Amplification: Leah Gregg
Outreach Coordinator: Rosa Tang
Digital Analyst: Gordan Zhang, Daniel Riggi
Producer: Laura Rioux
Production Company: Skin + Bones
Director: Michael Lawrence
Executive Producer: Liane Thomas
Line Producer: Rita Popielak
Editor: Marc Langley
Post Production House: Rooster Post
Audio House: RMW Music, Grayson Matthews
Media Agency: MEC Canada, Catalyst
PR Agency: Citizen Relations
Account Managers: Cheryl Munroe, Barrett Holman, Scott Lyons, Alex Lefebvre, Seth Waterman, Haley Kriksic, Daniel Riggi
Have questions? Need help?