2017 Winners
Click here to return to the list of 2017 winners
•
Grand Prix

•
Gold

•

Original Idea

•

Reinvention

•

Integration

•
General Mills Canada (Honey Nut Cheerios)
"Bring Back the Bees"
(Cossette)
Honey Nut Cheerios (HNC) is the top performing cereal brand for General Mills. However, in an increasingly competitive environment, and a category primarily bought and sold on deal, the brand was at risk of losing significant ground. Its core consumer was aging and no appropriate strategy was in place to attract a younger consumer to carry the brand into the future. Honey Nut Cheerios needed a way to show millennials that it cares as much about the world as it does about selling cereal.
Through significant qualitative and quantitative work, the brand identified that it shares a common interest with millennials – devastating effects of a rapidly declining honey bee population, which is responsible for the pollination of 1/3 of fruits and vegetables.
For HNC, honey is in the brand's name and is a key ingredient in its flagship product, not to mention Buzz, the beloved mascot, is the most recognizable honeybee in the world. Buzz holds the human qualities to energize people around a campaign to save the bees.
As iconic and loved as Buzz the Bee is, he needed to be removed to help people feel the impact of a declining bee population. Nowhere is Buzz more meaningful than on the Honey Nut Cheerios box on the store shelf. Removing Buzz from the box would draw attention to an important cause. But, it wasn't enough just to raise the issue without a constructive solution.
The brand, along with its agency Cossette, invited consumers to "Bring Back the Bees" by registering online to have wildflower seeds sent to their house so they could plant a viable food source for the honeybees. The brand hit its goal of 35 million seeds in the first week – and later revised it to 110 million, which also disappeared fast. The team created an online video, which featured popular social media videos of humans saving various animals, and asking the viewer to help save the bees, too.
Baseline sales have increased 11.8%, with the original targeted goal of 1% to 2%. The brand exceeded its stated 35 million seeds in the first week and distributed a total of 115 million seeds to Canadians. The video has been viewed 10 million times online. There has also been significant news coverage of the program across the globe (including Time magazine and Fast Company).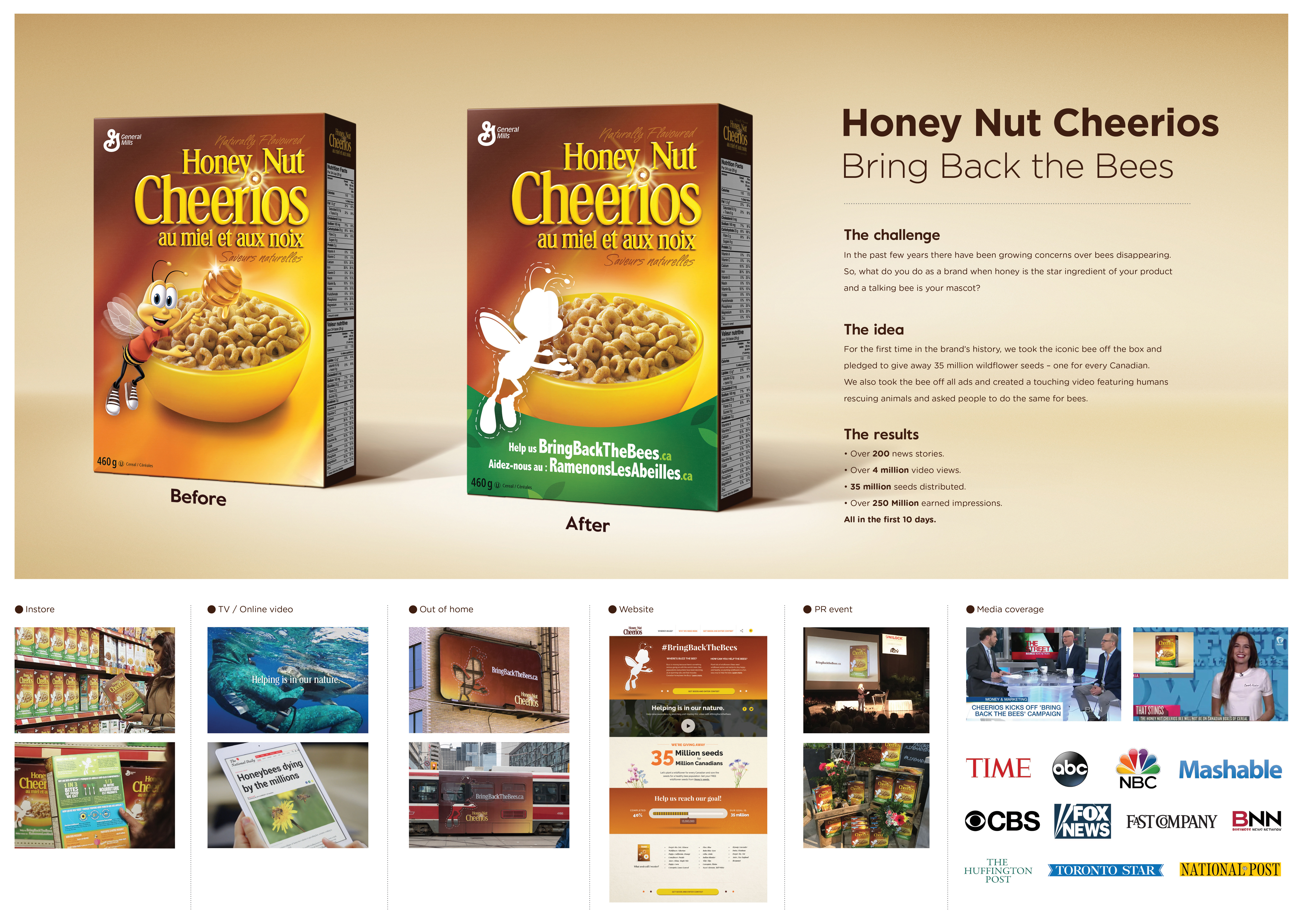 Credits
Advertiser: General Mills Canada (Honey Nut Cheerios)
Director of Marketing: Emma Eriksson
VP Marketing General Mills: Dale Storey
Associate Marketing Director: Amanda Hsueh
Associate Market Manager: Kayla Rochkin
Agency: Cossette
CCOs: Peter Ignazi, Carlos Moreno
CDs: Sean Barlow, Ed Lea
ACD/AD: Yusong Zhang
ACD/Copywriter: Dhaval Bhatt
Interactive Designers: Derek Sharpe, Gustavo Oregel
Agency Producer: Sam Benson
Account Executives: Jennifer Self, Isabelle Morin
Account Directors: Jessica DeSantis, Paula Badran
VP, Client Leader: Wendy Morgado
SVP, National Business Leader: Janis Lindenbergs
Director, Strategy: Kevin McHugh
Chief Strategy Officer: Jason Chaney
Agency Production Manager: Aimee Churchill
Senior Retoucher: Trevor Gauthier
Production House: SammyB Productions
Producer: Sam Benson
Editing House: Soda
Executive Producer: Mina Jang
Editors: Nicole Lawr, Gerrit Van Dyke
Transfer & Online: The Vanity
Audio House: RMW Music
Music Search and License: Supergroup Sonic Branding Co
Music Supervisor: David Hayman
Track: Broken Wings as performed by Choir! Choir! Choir!
Box Packaging Design: Hunter Straker
Media Agency: Cossette Media
Group Director: Jenny Martin
General Manager: Jeff Berry
Media Planner: Natalie Griffith
Broadcast Investment Manager: Dianne Yu
VP, Media Buying Director: Diane Devries
PR Agency: Veritas
President: Krista Webster
Senior Director: Stella Mok