Categories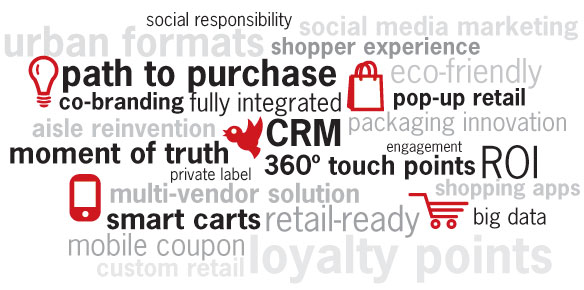 Categories span all shopper marketing areas so anyone can enter. Entries may come from FMCG manufacturers and retailers, and from advertising, digital and promotion agencies, that have broken new ground and successfully launched new initiatives. Innovation from tech companies, design shops, research, metrics, or other shopper-marketing centric partners across the mobile, loyalty, couponing and sampling space are also eligible.
Ideas & collaboration resulting in stand-out programs are key Shopper Innovation criteria, and for more detail on the elements judges will be assessing in each category, please see the Material Requirements page.
The main areas of entry are:
Shopper marketing progams - Forward-thinking programs that engage shoppers in new ways along the path to purchase. In addition to FMCG and retail brands, agencies and other partners may enter.
Retail innovation - Innovative ways to engage shoppers, from in-store transformation to initiatives that expand physical and digital footprints. In addition to retailers, agencies, brands and other partners may enter.
Technology advances - Any tech breakthrough that helps engage shoppers, from in-store to mobile offerings. In addition to CPG and retail brands, developers, suppliers, agencies and other partners may enter.
Entry categories:
Brand new!
New approaches for newly launched products - from sampling and building trial through to shelf presence and promotion.
Out of the box retail
Driving engagement throughinnovation at retail - from new store formats and virtual footprint expansion to brand content programs. The best new initiatives, such as retail space transformation, private label innovation, mobile apps, flyer innovation, and ongoing content efforts from publications to social media community-building.
Packaging
Beyond a pretty logo, breakthroughs across the product packaging front. New products or redesigns that stand out from the crowd.
Changing behaviour
From manufacturers' multi-brand programs to retailers' multi-vendor solutions, shopper marketing that changes consumers' routines and patterns, by boosting basket and aisle interest. On the retail side, this encompasses aisle reinvention - programs that disrupt category conventions to re-energize shopper interest in specific store areas. For manufacturers, this entails programs that position a group of products as a complete solution, designed to change consumers' regimens.
Small budget, big impact
Shopper marketing programs that moved the needle but didn't break the bank, via inventive budget-stretching ideas. For budgets under $150K (net consumer spend).
Custom retail
Programs customized to meet specific objectives, or the development and execution of multiple custom program iterations tailored to different retailers.
CRM & Loyalty
Customer relationship management innovation, including loyalty program advances, new partnerships, new data segmentation techniques and implementation, strategic social media community-building, customized communications and effective use of technology to drive repeat business and increase spend.
Integration
Campaigns that engaged shoppers equally well across mass media right down to social media and customized content purpose-built for whatever device they're toting. This encompasses brands developing true transmedia content - messaging with complementary iterations that intrigues consumers across many platforms, and that uses each channel to its utmost potential, culminating in shopper action.
Path to purchase / Out-of-store
From digital & mobile to sampling program advances and innovative OOH, this category recognizes the efforts that used new strategies and tactics to drive loyalty, awareness, sales and trial by creating strong purchase motivation.
In-store engagement
Novel approaches that garner shopper attention and interaction at retail. This category recognizes the work that involves shoppers in new ways, such as POS that goes beyond its borders by inviting interaction, new tools such as AR and mobile to augment the depth of the shopper experience, and experiential engagement - the clever use of environment and activations to influence shopper activity, from stunts to pop-up shops.
Reinvention
Brands or retailers that navigated a transformation to their positioning, offering or long-running programs to change perceptions, reach a new demographic or re-engage consumers, as well as re-imagined global initiatives tailored to our unique retail environment.
CSR
From supporting charities and causes to your own social and sustainability initiatives, moving the industry forward entails doing a better job as corporate citizens. This category recognizes the most impactful social responsibility- and cause-related programs from retailers and brands.
Targeting
Clever connection with segmented and niche demos. This category recognizes excellence in effective targeting, including multi-cultural programs, behavioural and psychographic audience engagement, and savvy addressability solutions.
Partnering
To do something truly novel in the shopper marketing space requires partners step outside their comfort zone. This category recognizes the partnerships that went beyond the status quo to create new consumer experiences: partnerships amongst brands, clever media partnerships and innovative retail collaboration.
Tech breakthrough
Tech-centric innovation helps brands effectively reach & engage shoppers. This category identifies the best use of tech, and the new tech advances and collaboration that made a real difference in developing successful shopper marketing programs.
Original idea
This category recognizes the ideas that show the way forward. When you go beyond conventional thinking, with insights and programs that defy categorization, this is the award that recognizes those shopper "Eurekas" - from brilliant insight to execution.
Made you look! Awareness/Trial Breakthrough (New)
Programs that cleverly broke through consumers' auto-pilot shopping mode by leveraging shopper insights to successfully drive awareness and trial for existing products.
Made a splash! Seasonal/Event Success (New)
Breaking through the Super Bowl snack tsunami and Christmas shopping frenzy takes some ingenuity. The best one-off and themed marketing programs that broke through holiday and big event clutter.
The Retail Innovator of the Year (New)
Presented to the retail organization that has made the biggest strides in improving their omnichannel capabilities based on insights gained from consumer and shopper research over the past calendar year. The award is open to retailers in all categories.
The winning retailer will be selected by this year's Shopper Innovation Awards jury and the inaugural award will be presented at that awards show in spring 2017. Jury members who are part of a retail organization that has entered will be excluded from judging that particular entry.
The winner will be the retailer that has best leveraged consumer and shopper insights to improve upon its total offering, based on the criteria below.
Where possible, provide specific detail about insights gained and how those were leveraged for innovation within your organization. In addition, please be as specific as possible about business results.
In-store experience (25%): Over the past calendar year, what steps have you taken to improve your in-store experience based on insights gleaned about your customer/potential customers (this could include merchandising, events and in-store tech innovation)? What results have you seen from this?
E-commerce programs (25%): Over the past calendar year, what initiatives have you undertaken to improve your ecommerce offering? What results have you seen from this?
Digital and CRM programs (30%): Over the past calendar year, what steps have you taken to improve your digital/CRM experience based on insights gleaned about your customer base? What results have you seen from this?
Marketing communications (15%): Over the past calendar year, what has your organization done in terms of marketing communications to boost awareness of what's new among your customer base/target? What results have you seen from this?
Internal innovation (5%): Over the past calendar year, what has your organization done internally to facilitate overall innovation? This could include hiring more staff within a specific department, changing workflows within the office or creating more collaborative environments. What results have you seen from this?
All entries for Retail Innovator of the Year, segmented into the above criteria, must be submitted in Word format by Friday, November 25 to Harmeet Singh, news editor, strategy at hsingh@brunico.com.
Jury selected
Grand Prix: Brands are vying 24/7 to reach, entertain and win over their multi-tasking audience and turn them into shoppers. From Loblaw's reality-to-next-day retail first, Recipe to Riches, to Maynard's consumer's-face-on-a-candy program, the concepts that fuel this are changing. The jury will select the best new program, site, app or commercial content from all the entries, to recognize the brand whose work most effectively reaches and connects with shoppers today.
Have questions? Need help?