2017 Winners
Click here to return to the list of 2017 winners
Gold

•

Out-of-the-Box Retail

•
Ikea
"Pick-Up and Order Point Hyperlapse"
(Leo Burnett)
For most Canadians, Ikea is perceived as out-of-reach. That's because, in a nation over 9.9 million square kilometers in area, there are only 12 Ikea stores, leaving many driving hours to visit a store or resorting to shopping at competitors.
To close the accessibility gap, Ikea launched Pick-Up and Order Points, a retail concept that lets people order online and pick-up their purchase at a nearby location. The objective was clear – to convince Canadians that the new Pick-Up and Order Points put Ikea closer than ever to their homes.
To overcome the accessibility barrier, Leo Burnett sought to literally show visitors how easy it is to experience Ikea, and how local the locations now are. So the agency created the Ikea Hyperlapse: digital banners that demonstrate how close the new retail locations are. Users simply enter their postal code and the digital banners generate a simulated hyperlapse video of their drive to the Pick-Up and Order Point to encourage visits and show how easy it was to now experience Ikea.
To visually demonstrate just how close Ikea is based on the new PUOP's offering, every user got their own personalized banner when they entered their postal code. Using hyperlapse technology, Leo stitched together Google Streetview images and created videos showing people's journey from their neighbourhood to their local Pick-Up and Order Point.
Users saw familiar sights like local schoolyards, parks, malls and more, reinforcing how close the Pick-Up and Order Points are. And, at the end of each banner, the brand told users how short their drive would be. Trips were usually within 30 minutes.
The hyperlapse generated thousands of unique banners, engaged users three times the industry standard and sales goals were exceeded by 15%. London and Quebec City interaction rates exceeded their click-through rates - providing a fully educational in-banner experience (0.20% interaction rate vs 0.11% CTR). What's more, London and Quebec interactive banner support garnered over 1.5 MM impressions and 1.7K clicks to Ikea's site.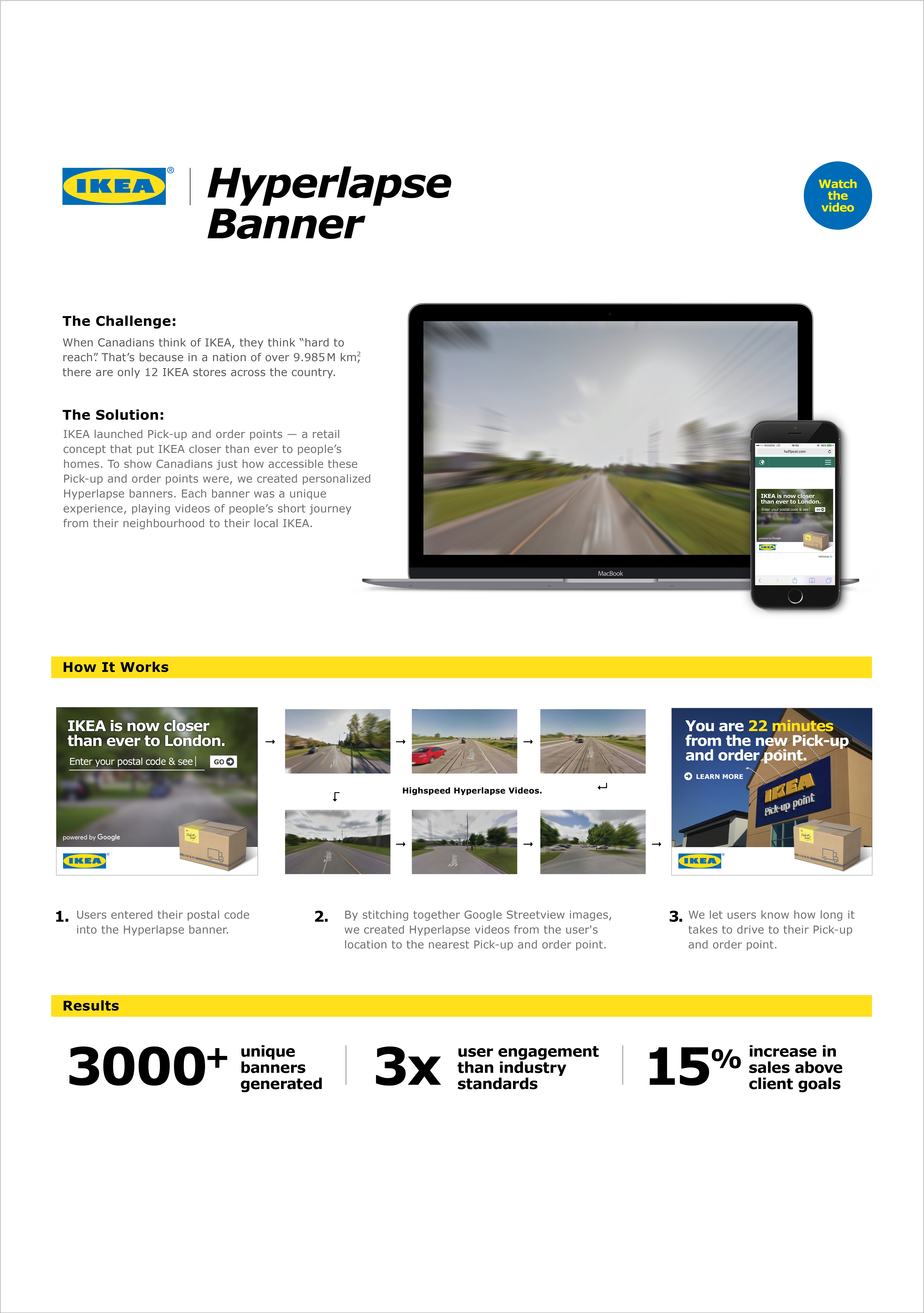 Credits
Advertiser: Ikea
Agency: Leo Burnett
CCO: Judy John
Group CDs: Morgan Kurchak, Fernando Hernandez
Copywriter: Jason Soy
AD: Sally Fung
Designers: Sean Perkins, Eugene Bak
Illustrator: The Sixnfive Studio
Director, Creative Technology: Felix Wardene
Web/Flash Developer: Chad Elston
Account Director: Emily Robinson
Account Executive: Andrea Smith
Digital Project Manager: Thomas Degez
Media Company: Jungle Media