2017 Winners
Click here to return to the list of 2017 winners
Gold

•

Tech Breakthrough

•
Molson Canadian
"Global Beer Fridge"
(Rethink)
Molson Canadian is the only beer in the world named after the people it's made for. The label has featured a maple leaf longer than the country's flag. Canada Day is understandably a highpoint in the brand's activities each year. For Canada Day 2014, the brand and agency Rethink introduced a Beer Fridge that only opened when people correctly sang the national anthem. The brand wanted to bring it back for 2015 with a fresh twist.
Canada is known the world over for rich diversity and a spirit of camaraderie. To reflect this, Rethink developed a Beer Fridge that upped the ante: opening the fridge required people to say "I Am Canadian" in six different languages. This ambitious idea required pushing uncharted technological boundaries to enable the idea to come to life. The agency knew how to build it, but it needed an equally ambitious partner who would be able to break new ground on a systems and data level, to enable the technology to work remotely and accurately.
The partner in this initiative was Google. The company not only had the most robust, open source language dictation database, it also developed backend systems and took its vertical systems integration to a whole new level, just for this project.
The Global Beer Fridge used no fewer than four of Google's products – Speech to Text Dictation, Google Chrome, Android and Google Search. Everything was customized to a degree that they'd never done before – either for a partner, or themselves. Ultimately the team had a fridge that detected 50 different languages, decoded the spoken word into text, translated into English, confirmed the words spoken were in fact "I Am Canadian" and pinged back a confirmed indication in only seconds. It was a tremendous technological achievement, only possible with the committed partnership with Google.
With a live activation, there's always an element of magic that brings special moments forward, but in order for those moments to happen, the technology had to perform flawlessly. Masses of people came together and collectively solved the puzzle to open the fridge – by having each person say "I Am Canadian" in a different language, to unlock the fridge and to release beer for them to enjoy. With a customized integrated hotspot, the team connected three different mobile data networks together to bridge enough bandwidth for our data transmissions. It also built custom circuitry that connected to a backdoor to Google's own Speech to Text database, server farm and computational prowess. The team was able to capture, analyse, translate, confirm and re-transfer the data in mere seconds in front of consumers' eyes. They had never seen anything like it before, because it had ever been done before.
The technology Rethink developed with Google drove an incredible level of attention for an activation that, while focused on a short period in the calendar, is a very important one for Molson. In addition to being the country's number one trending topic on Canada Day and achieving 105 million impressions (55 million of them earned), sales in the retail footprint area around the activation doubled over the Canada Day period.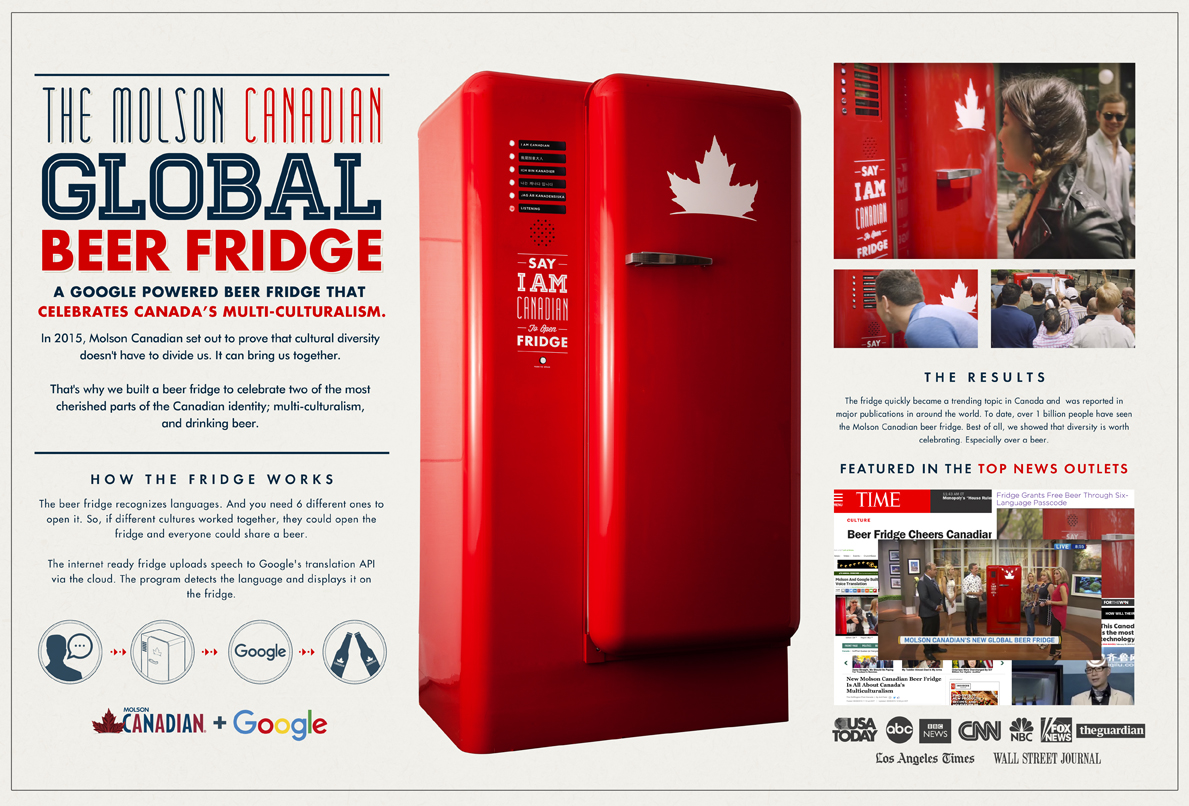 Credits
Advertiser: Molson Canadian
Agency: Rethink
CDs: Mike Dubrick, Joel Holtby, Aaron Starkman, Dre Labre, Chris Staples, Ian Grais
ADs: Joel Holtby, Simon Au
Writers: Mike Dubrick, Aaron Starkman
Broadcast Producer: Monika Ghobrial
Designers: Joel Holtby, Mike Dubrick
Interaction Designer: Todd Harrison, Dre Labre
Production Companies: Suneeva, Thinking Box, Stacklab
Director: Danielle Levitt
Post Production House: Rooster Post
Editor: Marc Langley
Audio House: RMW Music
Have questions? Need help?